Fire & Smoke Damage Restoration  Toronto
About Fire Damage Restoration
Understanding the effects of a fire can help you evaluate the damage to your home or business. By learning more about residue clean up and deodorization after a fire, you can minimize the need for costly repairs. Call Ibx Services,  and see how we can help, because increasing your knowledge and partnering with qualified restoration technicians ensures that your home or business is correctly restored. Clean Image and our qualified subcontractors can help return your home or business and its furnishings back to what it was like before the fire.
Ibx Services realizes that even after the fire trucks are gone, damage is on-going and it is extremely important to begin restoration to keep your costs down. The longer neutralization, corrosion control, and cleaning is delayed, the greater the scope and cost could be.
We understand the frustrations and trauma that fire damage can cause for home and business owners. We are qualified to properly evaluate the loss, test damaged materials, select the best restoration techniques, coordinate with your insurance company, and attempt to restore your home or business to pre-loss condition.
At Ibx we make it our goal to ensure that your fire damage restoration experience is as stress-free and positive as possible!
About Smoke Damage Restoration & Cleanup
Another major aspect of fire restoration is dealing with all of the smoke damage that has been left behind. Our professional team is fully prepared to take care of this damage so that you can protect your health and get your home back to normal.
Smoke damage is characterized by discoloration, corrosion and a strong smell. This can lead to the yellowing of your walls, and it will also tarnish metal. Fiberglass and most other surfaces will suffer quickly from the effects of smoke damage, but our technicians have the necessary equipment and experience to fix this problem.
It is important to note that smoke damage becomes worse over time. In fact, waiting just three days to contact Ibx Services,  may cause permanent discolorations. We recommend taking action immediately after the fire in order to save your belongings and reduce your expenses.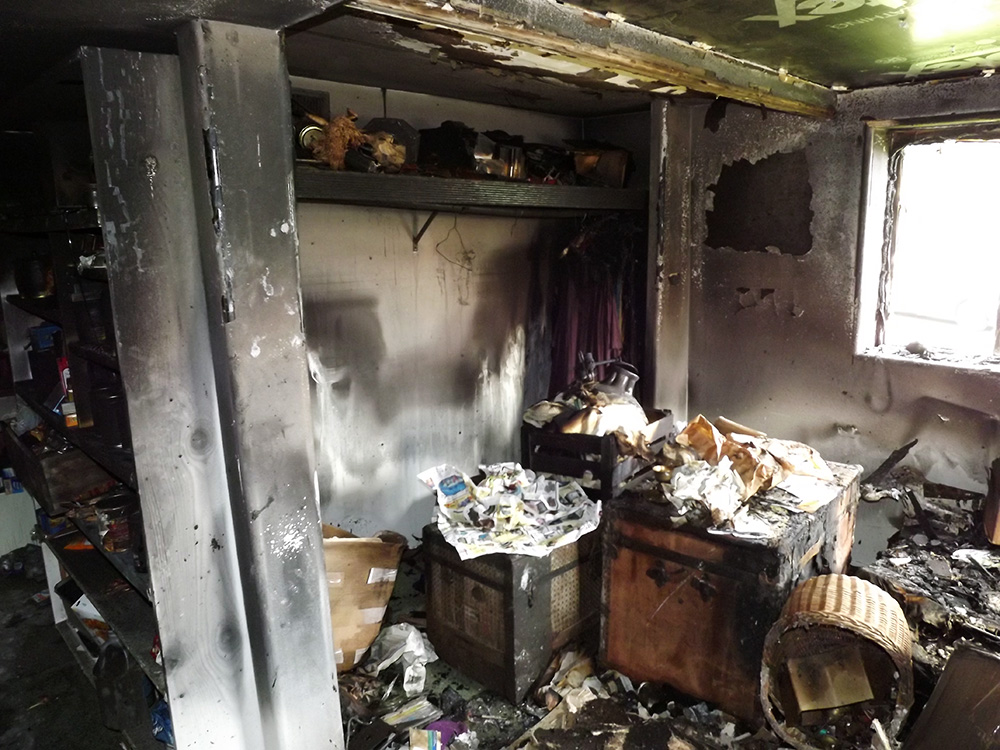 The Danger of Smoke Damage
Smoke damage is not just bad for your home; it can also be dangerous for your health. There are a lot of toxins and irritants in smoke, and this makes it unsafe for you to spend time in your home after the fire. Additionally, smoke damage can severely weaken the structural integrity of your home. We can fix this issue for you so that no one in your family is forced to suffer from toxic exposure.

Soot Cleanup
Soot can occur after a very minimal fire. Therefore, even if you just had a small kitchen fire that did not require the assistance of the fire department, you could still have a dangerous substance in your home.
The black ash that is on your walls or other surfaces is toxic soot. We can quickly assess the amount of soot damage that is in your home and get it cleaned up before it causes permanent damage to your walls, carpet and cabinetry. This is a process that should be started right away to minimize the overall damage.
We know that a fire is one of the most devastating things that a homeowner can experience, and our team's primary goal is to help you get everything back to normal as soon as possible. Call us today to learn more about how we can help. We have emergency service available 24/7.